Università degli Studi Mediterranea di Reggio Calabria (UNIRC) 
UNIRC combines tradition with an orientation towards the future. It is a young and dynamic public institution that keeps strong connections within its socio-economic context while looking for internationalization.
Located on the Messina Strait, at the heart of the Mediterranean Area, it aims to be an internationally reputed European research University and to provide high-quality education for both domestic and international students.
Its strength lies in its integrated range of disciplines that result in interesting opportunities for interdisciplinarity in research and teaching. Research and teaching specializations evindently in the Ph.D. programs.
Many scientists from all over the world are linked to researches carried out at the UNIRC, which commits itself towards emphasizing the advancement of young scientists and the further development of its range of degree's programs by seizing the opportunities offered by the Bologna System.
Key people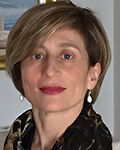 Prof Marina Mistretta
This email address is being protected from spambots. You need JavaScript enabled to view it.
Marina Mistretta is a full professor at the University
Mediterranea of Reggio Calabria from 31 April 2022 in the competition sector 09/C2 "TECHNICAL PHYSICS AND NUCLEAR ENGINEERING" - SSD INGIND/11 "ENVIRONMENTAL TECHNICAL PHYSICS". Born in Castelvetrano (TP) on 11.22.72, she obtained the Degree in Civil Engineering at the University of Palermo on 16 July 1997 and the title of PhD in Environmental Technical Physics, XIII cycle, on 18 January 2002, at the University of Palermo.
The scientific activity is mainly oriented to the issues of energy and environmental sustainability, with a focus on "life-cycle based" methodologies, energy efficiency in buildings, technologies powered by renewable energy technologies, systems for the generation and storage of energy and decarbonisation strategies for systems and processes. The publications and scientific research activity focus on thermophysics of buildings, energy-environmental sustainability on an urban scale and in construction, definition of support models for multi-criteria decision support applied to energy planning, models and analysis of energy technologies from renewable sources, Life Cycle Assessment applied to energy technologies and buildings, energy and environmental analysis of production systems in the agri-food chain, energy balances of NetZEB (Net Zero Energy Buildings) and Positive Energy Buildings and Districts buildings, eco-design of energy storage systems.