The seminar, organized by WATERLINE, aims to provide participants with valuable insights and practical knowledge on effective research proposal writing. Leonardo Piccinetti, a renowned expert in project management, will be leading a scientific session titled "Project Writing HE Proposal: Lessons Learned from Project Management – Case Study Analysis: Lessons Learned from HE Successful Projects in the Digital Water Sector."

SiTeS has been playing a significant role in the WATERLINE consortium as a task leader for Ecosystem Mapping and Innovation Ecosystem. The consortium's objective is to transform advanced water skilling through the establishment of a network of extended reality water emulative centers.
"We are excited to have Leonardo Piccinetti share his extensive expertise on project proposal writing during the Waterline seminar. Leonardo's session will provide valuable insights into project management in the digital water sector, based on real-life case studies."
The seminar will offer an excellent opportunity for researchers, academics, and professionals involved in the water sector to enhance their proposal writing skills and learn from practical examples. Attendees will gain valuable knowledge in developing successful research proposals and implementing them effectively.
For more information about the Waterline project and the upcoming seminar, please visit the WATERLINE project website.
About WATERLINE: WATERLINE is a collaborative project dedicated to transforming advanced water skilling through the creation of a network of extended reality water emulative centers. It aims to bridge the gap between research, education, and innovation in the water sector, with a focus on digital water technologies.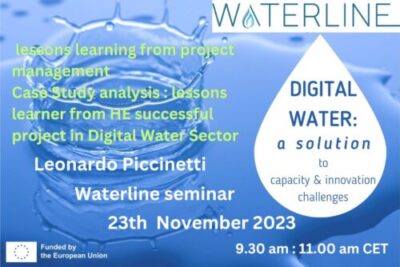 Leonardo Piccinetti, the CEO of SiTeS, will be delivering a project proposal training session at the Waterline seminar on writing research proposals. The seminar will take place on November 23rd from 9:00 a.m. to 5:00 p.m. (GMT) via Zoom.